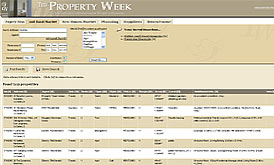 To arrange a personal demo of Property Week.ie at your offices, contact Paul on the details below. A demo will take only 10 minutes whereas subscription could save you hours every week!
Paul O'Connor
Sales & Marketing

The Property Week Ltd.
M: (+353) 86 813 5672
E: paul@propertyweek.ie
W: www.propertyweek.ie


YOUR QUESTIONS ANSWERED
What is Property Week.ie?
Property Week.ie is an online property comparables and research service accessible only to property professionals. Our trade only service is designed to help improve the accuracy of residential valuations and provide comprehensive, up to date property news as well as improving the efficiency of planning, development land and commercial property research.
What does a subscriber have access to?
Full subscribers have access to all the tabs as seen below . . .



Property Week.ie data is updated daily and weekly depending on location and has a dedicated support staff available to resolve any user difficulties. This support staff also vets the data to minimise inaccuracies.
Where does Property Week.ie obtain its data?
Property Week.ie gleans its data from national and regional newspapers as well as from trawling property agents' websites.
Are the prices displayed achieved or advertised prices?
Prices displayed on Property Week.ie are, at the moment, advertised prices, but we hope to be able to track achieved prices in the future.
What about gaps?
On request, we also provide free additional research for subscribers, updating our system with all relevant data available. This means you can be sure that when you search, the results are as complete as possible.
Does Property Week.ie cover the whole country?
Property Week.ie covers all the major markets throughout Ireland but data collection is most authoritative in the Greater Dublin Area (including Kildare, Meath and Wicklow), as it has been collected in these areas the longest.
Other areas covered include Cork city and county, Galway city and county, Limerick, Clare, Wexford, Kilkenny, Drogheda and Dundalk.
Does Property Week.ie track price changes?
Property Week.ie tracks all properties which have been listed at one price and thereafter are relisted at a different price. Such properties are instantly searchable to subscribers. We also track if a property has changed agent.
Can I print results found using Property Week.ie?
Subscribers can refine their search results by eliminating rows or columns from the original search results and print their tailored results by clicking a 'Print Results' button. Results are printed in an appealing, auto-formatted style . . . perfect for presenting as evidence to a potential client or vendor!
---